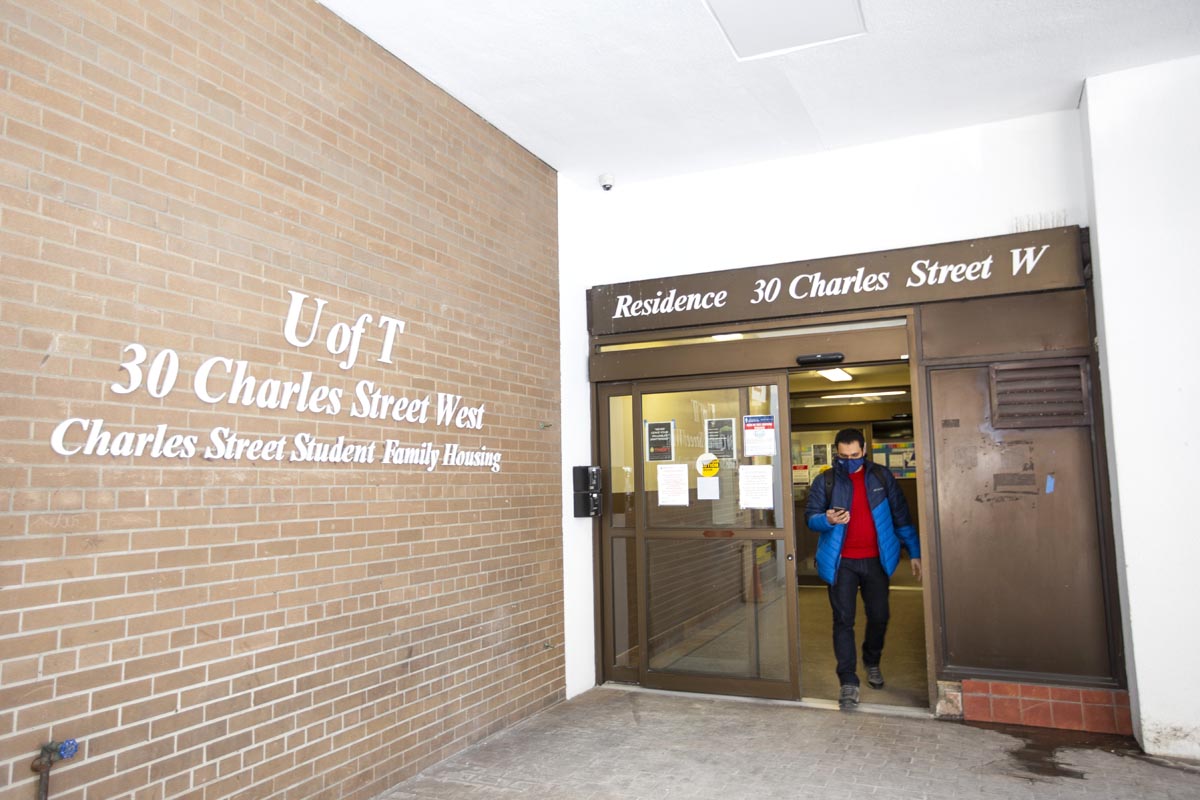 Due the 1st of the month
Rent is due on the 1st day of each month during your tenancy. There is no daily or weekly rate available as this residence is long-term only. Repeated late payment of rent after the first of the month may result in eviction and will cause anyone interested in transferring to be refused.
First and last months' rent must be paid by certified cheque, bank draft or money order. Once moved in, residents can pay by personal cheque, bank draft, money order, Pre-Authorized Debit and now by Canadian debit card in the Residence Office..
What Rent Includes
Heat
Hot water
Electricity
Fridge and stove
Rental Rates
| Unit | Rental Rate |
| --- | --- |
| Bachelor – Refreshed | $970 |
| One Bedroom – Refreshed | $1,178 |
| One Bedroom – Upgraded | $1,399 |
| Large One Bedroom A – Refreshed | $1,242 |
| Large One Bedroom A – Upgraded | $1,463 |
| Large One Bedroom B – Refreshed | $1,195 |
| Large One Bedroom B – Upgraded | $1,415 |
| Large One Bedroom C – Refreshed | $1,268 |
| Large One Bedroom C – Upgraded | $1,489 |
| Two Bedroom – Refreshed | $1,524 |
| Two Bedroom – Upgraded | $1,744 |
Rent Due Dates
Please be aware that rent is due in full on the first of each month and we are unable to accommodate late payment schedules. If you rely on OSAP or other external funding that comes semi-annually, this may pose a challenge for you unless you are able to arrange to pay lump sums of several months' rent in advance.
When students have chosen to leave their rent unpaid, they have unfortunately run the risk of being evicted, because this residence is self-funded. Transfer applicants are refused a transfer if they have not been paying their rent by the first day of each month.
The University does not subsidize this residence – the rent residents pay covers ongoing building maintenance and expenses, so rent must be paid promptly.
Rent Increases
The Resident covenants to pay the rent to the Landlord, in the manner set out in Section 3 (of the lease) without any deduction whatsoever.
The rent at Charles Street Student Family Housing is subject to a rent increase for all units on September 1st of each year, the amount of which is given to residents three months prior to the increase taking effect. Note that tenants are required to add this rental increase amount to your last months' rent deposit by submitting a cheque to the Residence Office in September when the rent increase occurs. This ensures that the rent deposit on file is the correct amount to be used for your last month of tenancy once you give notice to vacate.
Tenants are required to sign an annual N11 form once they have provided documentation of their full-time status for continued eligibility.
Note: Rent at the Huron-Sussex Student Family Housing is likewise subject to an annual rent increase once every 12 months. Residents will be notified three months in advance of the increase date with the details of the amount.
First and Last Month's Rent Payment
This is a deposit to hold the apartment for you once you have accepted the offer. Once you pay the deposit, you have committed to take the apartment, so please be certain you like the apartment before accepting.
Please note you will need to pay a service charge to send the deposit by certified cheque or money order. Personal cheques are not accepted for this initial deposit.
Any and all service charges by your bank and/or the University for processing bank drafts, certified cheques and money orders will be your responsibility to pay as the incoming tenant.
Wiring funds is not recommended as the service charges can be considerable once the transfer of funds has been arranged, as multiple charges may be applied by both banks. Any and all such charges will be required to be paid by the incoming tenant, whether they are very low or in excess of $100 CDN.
Wiring also can create a delay if the receiving bank experiences difficulty tracing and confirming the funds for us. This might mean the incoming tenant family cannot move in until we are able to confirm that we have received the money for first and last month's rent.
International Students
Sending money from abroad?
Note that if you send foreign funds, the interest rate may fluctuate by the time that money is deposited into our Canadian account. For example, it could mean that the value of your $987 USD certified cheque may drop in value by the time we receive it, and you would have to pay additional funds.
financial difficulty
Financial Assistance
For those student families experiencing financial difficulty, please go to U of T's Financial Aid website or to your registrar's office to speak to someone about the possibility of receiving financial assistance in the form of a loan, bursary or scholarship.
Charles Street West
Payment Options
Related