Charles Street West
Booking Common Rooms
Booking Common Rooms at University Family Housing
We are excited to announce that you can now book the Recreation Room (located at 35 Charles Street West) online on StarRez! For more information on booking and instructions on how to use StarRez to book, see the sections below.
Residents that are leaseholders but are not students will have to book the Recreation Room in-person at the Residence Office.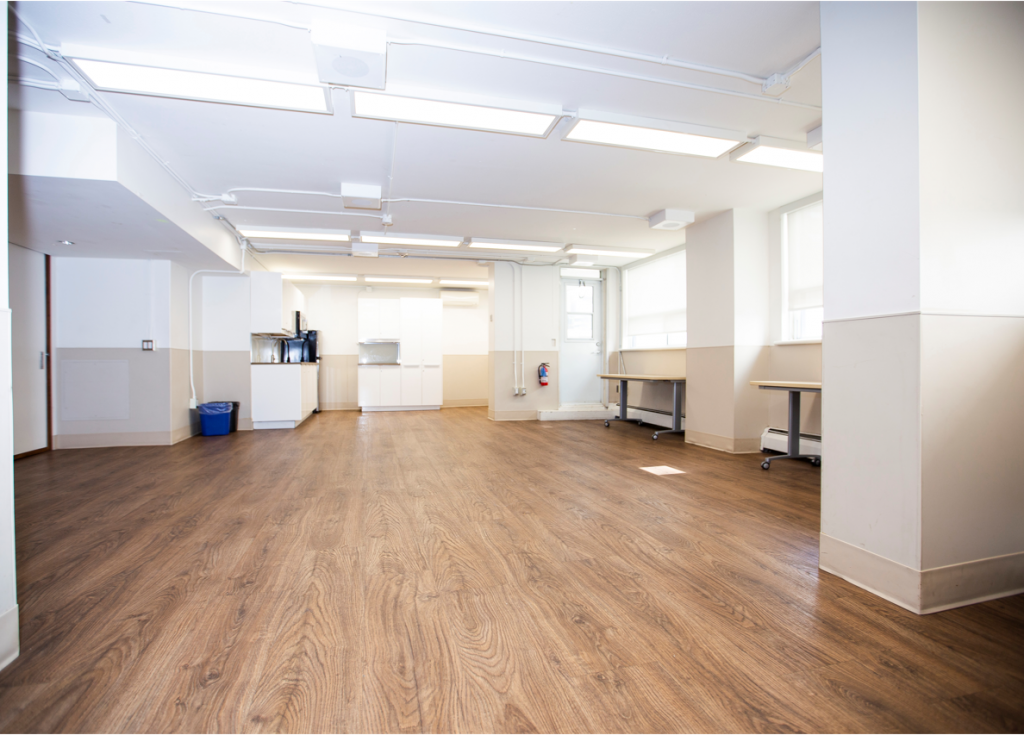 Booking Schedule and Rules
The Recreation Room will be available for booking 7 days a week in the following time slots:
This schedule allows for enhanced cleaning protocols to take place between each use of the room.
For planned events that will run over one time slot, residents can book two back-to-back timeslots on one day if available. Cleaning will not take place between the two timeslots booked.
Residents can have a maximum of two timeslots booked at any given time. This total resets after a booked timeslot has passed. For example, if you book two back-to-back timeslots on a Monday, on Tuesday you will be able to book two more timeslots again.
Requests for recurring bookings should be made to the Residence Office.
Note: If one of the above timeslots is not listed on the booking calendar, that means the room is unavailable for that time.
Same Day & Weekend Bookings
Bookings made on StarRez must be placed no later than 4:00pm the day before the booking.
For same day bookings of the Recreation Room, residents will need to make them by visiting our Residence Office in person.
Bookings for the weekend (Friday evening, Saturday, and Sunday) must be made before 4:00pm on Friday.
How to Book the Recreation Room on StarRez
1. Log into the StarRez Portal below:
2. Click on "Manage My Housing"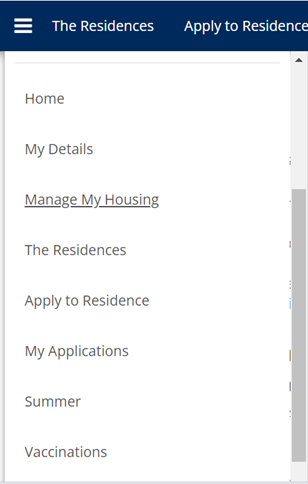 3. You should see the below with your individual residence information, click "Select"
From there, you will be taken through the booking process for the Recreation Room. Before you can book, you will need to agree to the Terms and Conditions, which can also be found below. You will also need to provide some details on the nature of your booking (number of people, purpose of booking, etc.).
Once you have agreed and provided details on the booking, you will be able to select the timeslot you would like to book from a calendar that shows the room's availability for the next calendar year.
Rules and Regulations for Use of Recreation Room
Only Leaseholders are permitted to book and use the Recreation Room for private use.
The leaseholder(s) of the apartment that reserved the room must be present at all times during the booking.
AT THE BOOKED TIME & DATE:
Call Security at 416-729-1592

Access will only be provided to the Leaseholder(s) that booked the room, and they must present proper identification and a copy of this Agreement form.
Events held in the Recreation Room cannot be advertised in advance of the event to residents of the building (or externally) unless it is a Residence Life Office event or if advertising has been explicitly approved by the Residence Office.

This room is not permitted to be used for canvassing, soliciting, recruiting, or promotions by the resident.
The conduct and safety of the people occupying the room is the sole responsibility of the applicant.
Alcohol is prohibited unless the resident obtains all necessary permits issued by the Province of Ontario at the Liquor Control Board of Ontario (LCBO). Permits must be obtained 14 days prior to your event. A copy of this permit must be submitted to the Family Housing Residence Office at 35 Charles St. West before the date of your function.
All materials, such as decorations, must be secured only to the designated blue tack board – no taping, tacking, stringing, stapling balloons, streamers etc. anywhere else!
Any and all garbage or damage caused to the facilities by anyone attending the function will be the sole responsibility of the applicant. All events must end at the designated end time of the booking in order to allow for clean-up.
Furniture must be returned to its original layout (posted beside the door) when leaving.
The Recreation Room will be made available on a first-come, first-served basis to residents.
Requests for multiple/consecutive room reservations will only be considered for low demand times (Monday to Thursday business hours and/or evenings) and will only be considered for 2 – 3 consecutive room requests at one time. These requests must be made in person at the Residence Office and are subject to approval by the Front Desk staff.
The University of Toronto or its Agent reserves the right to alter or cancel the approved user without notice prior to or during the event and shall not be liable for any loss whatsoever occasioned by such alteration or cancellation.
Security staff will monitor this room on a regular basis to ensure that users of the facility are adhering to the rules and regulations as outlined in this document.
The Resident Also Agrees and Acknowledges the Following
You are responsible for doing a complete inspection with staff before and after the booked event, and for ensuring that participants adhere to all rules.
All children under the age of 12 are to be accompanied by an adult at all times. There should be no more than 8 children to one adult in the room at any given time unless the event is a Residence Office approved event and proper supervision has been provided.
The microwave in the Recreation Room can be used only to re-heat food. Any food preparation/cooking must be done in your apartment. You understand and acknowledge that certain risks of injury, loss, damage or harm are possible during their personal use of the booked room, and they agree to indemnify and save harmless The University of Toronto, its officers, employees, agents and volunteers from and against any injury, loss, damage or harm, including loss of life, that may befall you, your guests or your family during the use of the reserved room.
You are financially responsible for all property damage and repair/replacement/cleaning costs in the room that may occur.
You will indemnify and/or compensate the University of Toronto or its agents for any loss or liability suffered by said University and agents as a result of their direct or indirect use of the room.
You are responsible for ensuring that the room is cleaned and restored to its former condition (including removing any form of decoration) after their use, and to ensure that all waste or garbage is removed and properly disposed of.
You will ensure that the room will not be used for unlawful or immoral purposes and that illegal substances will not be sold, purchased, or used in any way.
You will ensure that any consumption of alcoholic beverages is in accordance with the laws of the Province of Ontario, and that all necessary permits will be obtained as indicated previously in this document.
You will ensure that no noise, loud music, or improper behaviour will be allowed that may disturb or interfere with the enjoyment and lawful rights of the building residents.
Related